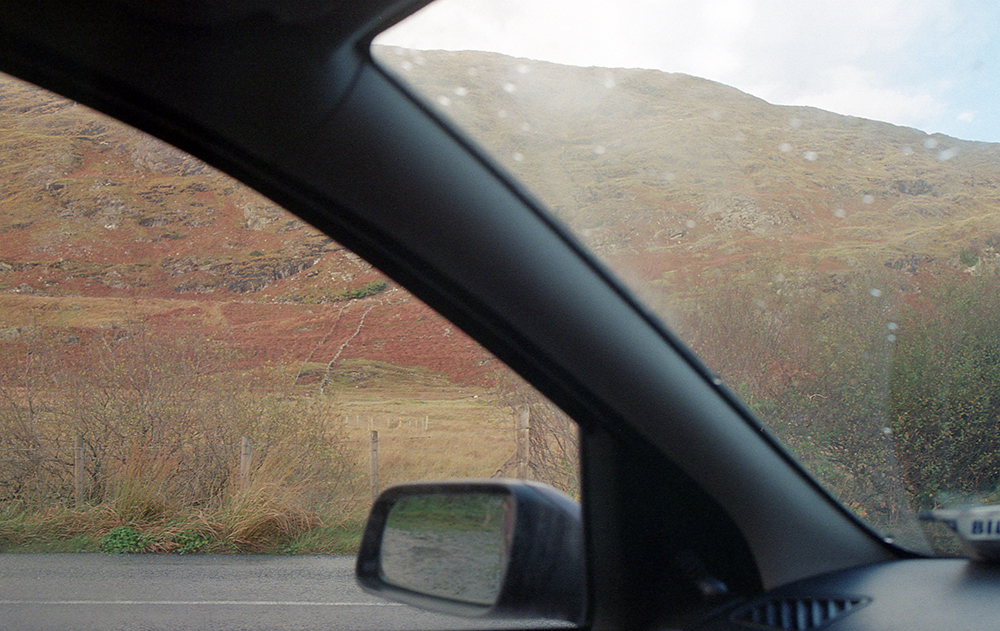 It wobbles now. A new wobble. Undisguisable. Over 50, something in the glovebox vibrates. Discomfortable frequency. Or maybe the world is wobbling, not the car?
I must try harder to never become emotionally invested in mechanical things.
Must try harder.
The NCT (National Car Test) Centre is on the East side of the city. It looks quiet and empty when I get there but inside after I hand over the key, I'm pointed to a waiting room that's nearly full.
It faces the main work area, separated by a thin wall with two big windows. A screen hangs next to one showing road safety tv spots and a changing list of cars as they progress through. "08 G 234 In progress 16 minutes." A sign says "No recording or photography permitted on this premises". People watch their cars move slowly from left to right.
Maybe if I'd finished War and Peace I'd have a better car.
A little child drops food on the floor, and his mother cleans it while trying to keep him calm. An older man and woman know each other, and joke about their chariots. "and mine's 12 minutes now but yours is still ahead." When the '97 Toyota Corolla is called I'm surprised it's his. I was trying to match cars with people. 'Great car' he exclaims when it gets the all clear, and he does a tiny dance between the counter and the exit door. I thought my car would be the oldest. But I'm sure it's the most broken.
The counter's just off the waiting room and everything can be heard. "Just a visual. Your seat belt won't retract back." I visualise a face of disbelief for when I'm summoned. "Astra oh one yeah? Sorry but we can't let you drive this car- the chassis is rusted away. The tyres are all bald as an egg, there's a hole in the exhaust, the brakes don't work, the wiper blades are missing, as are 4th and 5th gear, the indicators are reversed and there's an inch of water in the boot. She'll have to be put down. You can say goodbye now if you want."
I must try harder to never become emotionally invested in mechanical things.
"And your left elbow's gammy, your neck creaks, your canines protrude, your feet splay, your ear muscles spasm, your hair frays, your motivation crumbles, and you're a drain on society."
I move one seat over to let an old man sit on the seat at the end next to his wife. I assume it's his wife. Maybe they've never met before or maybe they've just met on Tinder and this is their first date, but they seem like a long-married couple. "You must be waiting awhile" she says. "The seat's so warm". They both wish me luck when the Astra is called. "Zero One Opel Astra"
If I'd done Law instead of a BA I'm sure I'd have a better car.
Anyway, my fantasy's off. I get to drive it away. "Lights. Anti-roll bar bushes and links nearside front worn/damaged. Depth of tire thread less than 1.6mm OffsideRear NearsideRear.
I ask about the wobble. What wobble?
I must try harder to never be emotionally invested in mechanical things.