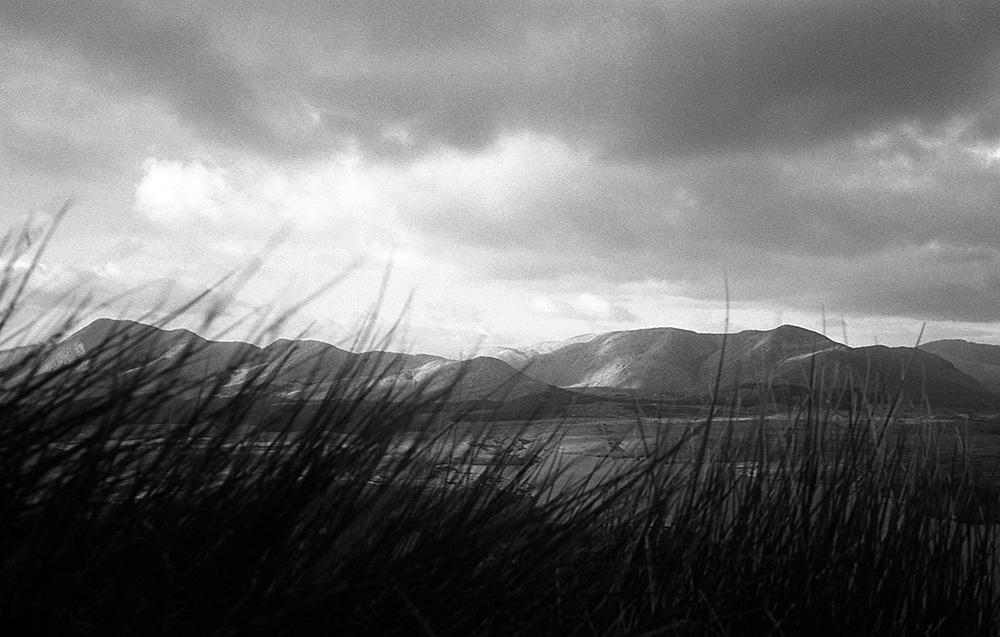 From up on Garraun you can see out along Renvyle peninsula. Glasilaun, Lettergesh, Mullaghloss, and Tullycross somewhere hidden. Names known since I've known names.
Distilled summers of wave on wave, collapsing in rushes, scrambling down grassy slopes. The sea so broad and wide below you can't take it all in. Or in the other direction, up the bogs, soft soft, following rivers, to the Black lake or the Garden lake over Kylemore or Shanabheag in Currywongan where John Joyce has bees. And winter nights sunk in the soft brokenspringed bed with gales whistling eerie tunes on the thick lumpy gable and the ceaseless roar of the ocean behind and below and inside.
And Mweelrae rising behind Letterettrin, looming over Killary harbour. The Atlantic never far away. Sea salt in the veins of air. I watch a tiny distant car trace along the far side of the lake on the potholed road.
Down there Wilde coined a 'savage beauty'. A literary tourist's phrase, now a tag painted so often it crumbles under the layers, like any respectable cliche for its marketibility. A pair of rooks, or ravens, circle overhead, black raggedtipped wings against the tumble of clouds.
Out there on the tip of Rosroe Wittgenstein soaked up harassed solitude, grappling with logic and language games. Only hardy sheep and stubborn buckled trees and acid loving mosses and the creases in a grandmother's hands.
Right below, Lough Fee, and then a river across the hop skip gap to Lough Muck, all part of the Culfin fisheries. Uncle Jackie won his World Masters fly fishing championship down there with a stump of a brownie from one of those banks. Which bank, I wonder?
Following, chasing, alone up here. What am I chasing? I cannot be what I was. I cannot sieve a soul or reburn a boyhood or strip away layers to uncover some mythical burning core. I am the old roar of ocean and a tumble of fresh cloud.
I stop to sit and look south at Inagh. Cumulus humilis and light leaking across the Bens and Maamturks.
A ewe passes with two following lambs. I take another picture.
I can perhaps, chip away on the latest layer, chisel the texture, scrape some grit into the detail, smudge tone in the shadows.
Already I am hungry and clambering back down to the shore of Fee.