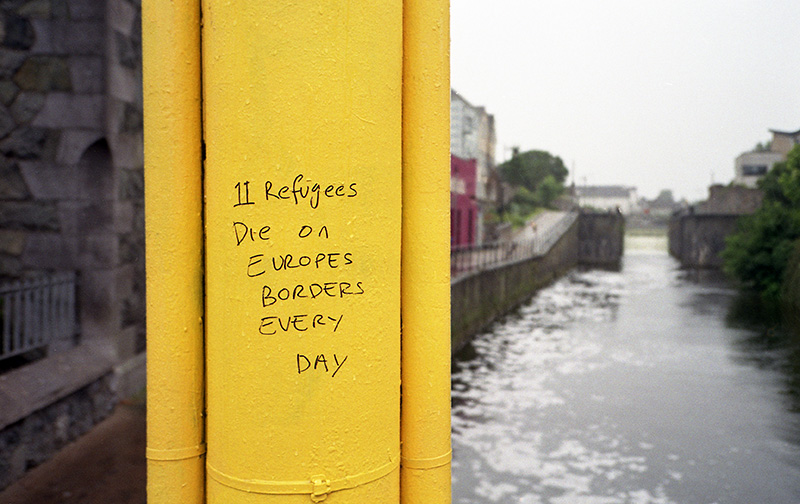 I stick the Hasselblad in one of the pannier bags mounted on the old blue Giant racer, and the tripod in the other. Then I head off a bit aimlessly. Left back the Glann road towards the hill of Doon or the High Road loop, or right to Oughterard? Right. Now, South towards Galway city or North towards Maam Cross and wild open Connemara? South. Now, straight on or left towards Aughnanure Castle and the maze of back roads. Left- shelter, no cars, no hurry.
An hour and some change later I will come back the same way in icy rain, trying to ignore a pair of freezing wet feet. Ah, welcome back, oh feeling of winter soaking and wrong shoe choice.
But for now, the roads are still dry, and the high leafless hedgerows hide me from the wind. Few cars. Country houses line the way, all facing the road, from a range of eras, materials, no unified design. 50s cottage-style with the two big front rooms, tiny bathroom and kitchen. 70s bungalow with upgraded double glazing. 80s open style with something USA. The odd classical flourish or non-rectangular edge. A stamp of posh, a cornice of pretension, a doric capital, perchance an ionic. Dormers from the oversized noughties. Not so much elegance. Neither showy nor restrained, more expressions of changing norms. Function, material, landscaping, regulation – window sizes, alignment, road facing, plot positioning. Not fully planned but a game of PLANNING PERMISSION. PLANNING PERMISSION is one of the pillars of IRISH POLITICS. This is how it rolls. The rules change the houses change. Septic tanks, one-off housing, maintaining what exactly- the countrysideness of the countryside?
I stop at any pier I find and take a long exposure photo in the cold. At Knockferry a sheepdog is sniffing around the old tyres used as boat buffers. It runs up. You have to be careful reading dogs, and look for their body language- friendly or foey? Some are quiet, defensive, head back, tail down, ears tucked in. Easier if they snarl or bark they might just stare, steady themselves. This dog is relaxed, full of beans, jumping, delighted with a pat on the head, eager for an ear-scratch. I figure it's a HE. Yup, a HE will mark like that, cock the leg up, sniff, cock, run, sniff, cock.
Now, there is an insight on the spin, and it is my new sheepdog companion that digs it out. On they way to the pier, along by the line of road-facing houses, I see few signs of life, and everything is calm, secure, domestic, organic as the cold of this hibernation season.
Now, Sheepdog sprints and darts and races alongside me and in front and then behind and then in front again. I almost crash into him. At every house he darts up to the gate, cocks the leg, sniff sniff sniff, cock, dart, sniff.
And at every house, I think every single house until I worry he is lost and will follow me home but then suddenly he disappears, there is another dog going nutso on the other side of the wall, running out the drive, barking and jumping and positively enraged. Sheepdog darts, cocks, sniffs, they appear, bark, give chase, then give up- next house.
So if I have no dog I will not see but peace. I will not witness any barking or confrontation. I cannot see what it would be like for ME+DOG when it is just ME. And I cannot know what the world is like for so many OTHER scenarios, even if it is the very same houses that I pass. I am always in the scene that I am in, and the scene as I am in it, depends on the I. Yet I must measure all on how it reacts to me. What once gave comfort might change so fast.
Soon I will find the glove that I dropped, and then the skies will open, and I will find I don't have the form to cycle hard into the cold gale, so aim for patience and dream of a hot shower and food and try not to slow the internal complaining about shoe choice.